UEFA Nations League: What is it and how will it work?
The competition will be introduced in 2018 and could help Scotland qualify for Euro 2020.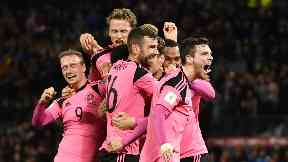 The UEFA Nations League is a new international tournament for European countries that will be introduced during the 2018/19 campaign.
UEFA says it is to improve the "quality and standing" of international football, while also reducing the number of friendly matches in the calendar.
All 55 UEFA nations will take part in the tournament, which is now set to take place every two years.
As well as being a new addition, it could also be huge for Scotland in terms of clinching qualification to a major tournament.
Let's break down why...
What's the setup?
The 55 countries will be divided into four leagues (A-D) based on their UEFA national team coefficient, meaning nations will compete against teams around their level.
Every league is divided into four groups (1-4) made up of either three or four teams.
League A is filled with the best sides in Europe while Group D consists of the weakest. Scotland are in Group C for the 2018/19 competition.
League A:
Pot 1: Germany, Portugal, Belgium, Spain
Pot 2: France, England, Switzerland, Italy
Pot 3: Poland, Iceland, Croatia, Netherlands
League B:
Pot 1:  Austria, Wales, Russia, Slovakia
Pot 2: Sweden, Ukraine, Republic of Ireland, Bosnia and Herzegovina
Pot 3: Northern Ireland, Denmark, Czech Republic, Turkey
League C:
Pot 1: Hungary, Romania, Scotland, Slovenia
Pot 2: Greece, Serbia, Albania, Norway
Pot 3: Montenegro, Israel, Bulgaria, Finland 
Pot 4: Cyprus, Estonia, Lithuania
League D:
Pot 1: Azerbaijan, FYR Macedonia, Belarus, Georgia
Pot 2: Armenia, Latvia, Faroe Islands, Luxembourg
Pot 3: Kazakhstan, Moldova, Liechtenstein, Malta
Pot 4: Andorra, Kosovo, San Marino, Gibraltar
How are the coefficients determined?
The coefficients as of October 11, 2017, will be used to split teams into their relevant leagues. We now know Scotland are in the top pot of seeds in League C.
The seeding pots for the UEFA Nations League are determined by using the UEFA national team coefficient rankings.
These are calculated by taking results, goals scored and goals conceded across the last three qualification campaigns for major tournaments.
Friendly matches are not counted and every result is regarded equally, regardless of opposition or venue.
Scotland's coefficient in the UEFA national team rankings has steadily improved over the last three campaigns.
Having accumulated a total of 220,008 points in the 2014 World Cup qualifying campaign, this increased to 267,022 in the Euro 2016 qualifiers and then 294,017 for this failed World Cup qualifying bid.
So how will it work?
There will be 16 groups in total - four leagues consisting of four groups.
Each side will play each other twice, meaning six games for those in a group of four and a total of four games for those in a group of three.
If you win your group, you will be promoted to the league above. The four group winners in each league will be promoted, with the four teams who finish bottom relegated to the league below.
The exception with regards to relegation comes in League C, where there will be one group of three teams.
As a result, the other three teams who finish third in the groups of four teams also face the danger of relegation.
The final relegation spot will be decided using tiebreak criteria. The three teams who finish bottom in the groups of four in League C will automatically be relegated.
In the first edition, the winners of each group will also go into a play off for a place at Euro 2020 with the other group winners in their league, played across a one-legged semi final and a one-legged final.
Winning the Nations League
This is unlikely to affect Scotland but it is worth explaining what happens to Europe's finest.
The four group winners in League A will face each other in a two-legged semi final and one-legged final.
These will take place in June 2019 and essentially fill the void of no international football that summer.
When will these games be played?
Each team will play each other home and away across September, October and November 2018.
The draw is on January 24, 2018, so we will have to wait another three months before we learn who will be in each group.
The qualification play-offs will not be held until March 2020 so in reality, Scotland might not know if they've made it until three months before the tournament starts.
Dates for your diary:
Matchday 1: 6-8 September 2018 
Matchday 2: 9-11 September 2018
Matchday 3: 11-13 October 2018
Matchday 4: 14-16 October 2018 
Matchday 5: 15-17 November 2018
Matchday 6: 18-20 November 2018 
Finals: 5-9 June 2019
Play-offs: 26-31 March 2020
So this is another way Scotland can qualify for Euro 2020?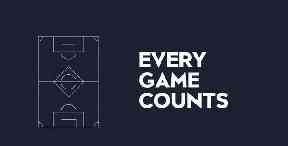 Simply put, yes. Or depending on if you're a glass half empty kind of supporter, another way for Scotland to miss out.
A total of 24 teams will play at Euro 2020. As there is no specific host, with it being played over 13 cities, there is no automatic qualification for one team before a ball is kicked.
Instead, 20 will qualify through the traditional method with another four through the Nations League.
Each league will have four group winners.
These are paired off in a play-off consisting of a one-legged semi final and then a one-legged final.
The four winners of these play-offs will book their place at Euro 2020.
The European qualifiers remain the same, though?
They do. The normal qualifiers as we know them will continue to determine how teams reach major tournaments.
The only difference now is they will take place from March until November rather than be split over 12 months.
We're used to the odd international break only consisting of one qualifier but from now on they will all be double headers to make up for lost time.
And there will be no more "best runner-up" play-off stress to contend with either.
The top two in each of the ten groups will go through. How simple compared to what we've just been through.
What happens if a team has already qualified?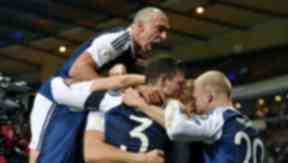 If a team qualifies through the traditional European qualifiers that will override anything that happens in the Nations League.
If, for example, Scotland finish top of their group in the Nations League and then secure qualification the traditional way, their place at Euro 2020 is safe and they will not have to then take part in a play-off.
Their place in the Nations League play-offs will go to the next best ranked second placed team in their league, and so on, until a team who has not yet secured automatic qualification is given the opportunity to book their spot.
This of course means there is even more chance of Scotland qualifying because even if they fail to do so the traditional manner, and then fail to win their Nations League group, they might be handed a lifeline should other teams in League C have already secured their place.
Is it better for Scotland to be in League C than League B?
In terms of qualifying for a tournament, yes.
Scotland are currently the third best side, and a top seed, in League C meaning they will be drawn against teams of a lesser quality.
If they were in League B they would face significantly stronger teams in a bid to reach a major tournament.
Are these not just glorified friendlies?
It depends on your interpretation. For the bigger nations, the feeling from them is that this is a good thing.
More games against high-profile opposition with prizes up for grabs, making a compelling product to get more people into their stadiums than friendlies would normally attract.
For Scotland, games against smaller nations might not hold massive appeal, but TV monies are centralised, meaning cash will come in as a result of the big boys playing regularly.
And with qualification up for grabs, it could be the helping hand the nation is after to end 20 years of heartache.