Scotland named as top seeds in Nations League third tier
The Dark Blues will avoid Hungary, Romania and Slovenia in the League C draw.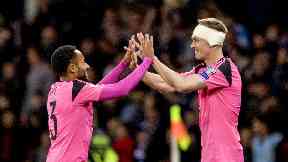 Scotland will be in the top pot of seeds for the third tier of the Nations League when it kicks off next September.
The competition, which is a new international tournament for European countries, will involve all 55 nations taking part from September to November 2018.
The tournament will be used to reduce the number of friendly matches across the international calendar and provides four qualification spots to Euro 2020.
Scotland will play in League C, which will be broken into four groups when the draw takes place on January 24, 2018.
Teams have been split into four leagues based on their UEFA national team coefficient rankings as of October 11, 2017.
These are calculated by taking competitive results, goals scored and goals conceded across the last three qualification campaigns for major tournaments.
Gordon Strachan's side will avoid fellow seeded sides Hungary, Romania and Slovenia, who are also ranked at the top of League C.
They will be drawn against either Greece, Serbia, Albania and Norway, who make up the next four best ranked sides in League C.
The third pot consists of Montenegro, Israel, Bulgaria and Finland, while the final pot has just three sides - Cyprus, Estonia and Lithuania.
League C will be made up of three groups of four teams and one group of three.
The winner of each of the four groups will be drawn to face each other in a Euro 2020 play-off.
They will play one two-legged semi final and a one-off final in order to book their place at the tournament.
Aside from this, the four group winners will earn promotion to League B and the four who finish bottom of their respective groups will be relegated to Group D for the 2020/21 tournament.
League C pots:
Pot 1: Hungary, Romania, Scotland, Slovenia
Pot 2: Greece, Serbia, Albania, Norway
Pot 3: Montenegro, Israel, Bulgaria, Finland 
Pot 4: Cyprus, Estonia, Lithuania
Still confused? Here's a breakdown of how it works...