Football Talk: Sviatchenko return, Regan cops flak
Your daily round-up of what's happening across Scotland and beyond.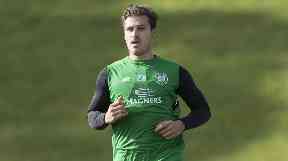 All eyes will be on Hampden today but not for the reason Scottish FA chief executive Stewart Regan would like.
The governing body's board will discuss Gordon Strachan's future and the nation will wait to find out if he's to be given another shot at qualifying for a major tournament or if we'll be scouring the globe to find a manager who can achieve that miracle without suggesting we need to breed giants.
Regan's every thought might be consumed with how best to approach the Strachan question but he gave himself some respite on Wednesday, taking time out to tweet UEFA president Aleksander Ceferin's praise for Hampden.
Fans quickly reminded him that the view isn't quite so hot from the cheap seats.
Erik Sviatchenko may not have been watching games from half a mile behind the goal but he's enduring a frustrating time recently.
Celtic haven't been short of defensive injuries recently but the Dane is set to come back ahead of schedule to face Dundee this weekend and possibly start against Bayern Munich next week.
Guessing the starting line-up for that match looks tricky but Pedro Caixinha is certain nobody will know his Rangers side to face St Johnstone ahead of time.
The Ibrox boss revealed he was aware of a leak last time the sides met but he's dealt with the problem.
Elsewhere, Paul Scholes could be in line for the manager's job at Oldham, the Coutinho transfer saga continues and Adam Rooney has said Aberdeen still have another gear to find.
And if you're absolutely baffled by the Nations League, we've got a simple explanation of how it works.
Top stories
The Nations League explained
The back pages