McCann: Hendry was 'punched in the balls' by Stokes
The Dundee boss was angry referee John Beaton did not send the Hibs striker off.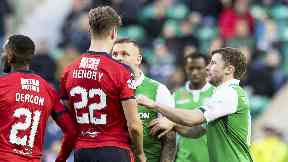 Dundee boss Neil McCann has labelled John Beaton's decision not to dismiss Anthony Stokes as outrageous after accusing the Hibernian forward of punching Jack Hendry "in the balls".
The pair clashed amid a melee in the second period, with Stokes appearing to lash out at the Dee defender.
After the dust settled, and following consultation with assistant referee Kylie Cockburn and fourth official Graham Beaton, the man in the middle booked both Stokes and Hendry.
McCann was seething in the aftermath and, to add insult to injury, the striker went on to set up the winning goal for Simon Murray.
"I know the fourth official has a clear view because he is standing next to me and I know Kylie can see it because she is looking down the same barrel," McCann said.
"Then John Beaton then gives a yellow card - before booking my player, who had been punched, too.
"After the game, John Beaton told me he goes on the information he has been given. That information was 'the player has been struck by another player' but he said he didn't deem it violent conduct; it was 'aggressive behaviour'.
"Well, I'm sorry, but it doesn't take a lot to be painful when you get clipped in the balls with a closed fist.
"People might be thinking 'oh, he's lost the game and looking for excuses'. Well, it's not the case - it was outrageous."