Football Talk: Argentina friendly, Griffiths darts taunt
Your weekly round-up of what everyone is discussing after the weekend fixtures.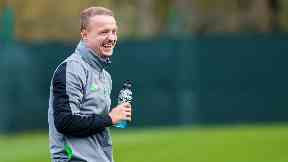 Welcome to international week... no, it's just not the same is it.
Scotland could have been warming up for a play-off double header this week that could have seen us pricing up flights to Russia next summer.
But instead, it's all about Pittodrie rather than Putin as we gear up for a friendly against the Netherlands.
Speaking of friendlies, it looks like Scotland could be lining up a game against Argentina next March along with a possible Morocco meeting.
Meanwhile, Leigh Griffiths had fun bragging about Celtic's new 63-game unbeaten record at the darts on Sunday night, with a bit of encouragement from Ladbrokes.
Celtic's Lisbon Lions collected a Scottish Bafta for the BBC documentary marking 50 years since the European Cup win.
And on the managerial front, Davie Moyes looks set to be joining West Ham, so that will maybe end him being linked to every big job north of the border. Maybe.
Today's top stories
The best of social media
The new Scotland top will be revealed today... is this it?
...or is this it?
Today's back pages