Callum McGregor: I'm ready to make my mark for Scotland
The Celtic midfielder says Champions League experience has built his confidence.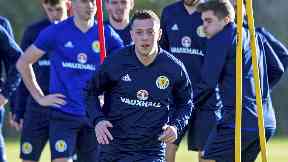 Celtic midfielder Callum McGregor is relishing the chance to show what he can do for Scotland after impressing in the Champions League.
McGregor was first called up for Scotland in 2014 but only made a return to the squad for Gordon Strachan's final squad.
Now in the mix for the friendly against the Netherlands at Pittodrie on Thursday, he says he has learned from playing against Europe's best and is well placed to make the step up to international level.
"I feel ready to play," he said. "It has been a really good period for me. The last few times I have been here it has been great to be here but this time round I feel I can play a part.
"The big Champions League nights and doing well in them has given me the confidence. I feel a lot more ready to play a part.
"I think it is just confidence. Playing well and scoring in big games, it is all part of the learning process as a player."
He added: "You are learning different sides to the game all the time and I feel, for me, I am affecting big games and that is where the confidence is coming from, you feel as if you do.
"In the last 12-18 months I have been coming on as a player in every aspect of my game and seem to be doing well and hopefully that continues."
McGregor cited club teammate Stuart Armstrong as an example of a player who had come into the squad and quickly made himself indispensable.
"It wasn't so long ago that he wasn't with Scotland," he said. "Since he came in he has been a massive part of it and everyone is talking about how good he has been.
"So certainly, for me, I can look at it and take confidence from that. It almost feels like a fresh start with so many different faces coming into the squad and we are starting to build for the next campaign.
"You could have picked easier games but you want to test yourself. But I am delighted to be part of the squad, it is a big honour and hopefully I get a chance on Thursday night."