Patrick Roberts plots Celtic return ahead of PSG clash
The winger says he is recovering well from injury and will be back in contention.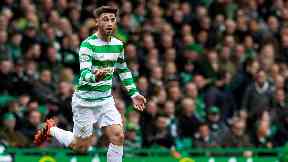 Celtic winger Patrick Roberts is on track to return from injury in time to face Paris Saint-Germain in the Champions League.
Roberts pulled up with a hamstring injury against Kilmarnock on October 28 and was ruled out of the matches against Bayern Munich and St Johnstone.
There had been fears he would miss the remaining matches of the Champions League group stage but he said he feels ready to return to action when the international break ends.
Celtic face Ross County on November 18 before flying out to Paris to face Neymar and company four days later.
"I'm back outside running and jogging so I'll hopefully be back soon enough," he said.
"It was a shame to miss the two games but with the international break I can rest and recover and get back as soon as I can.
"Hopefully as soon as the international break finishes I'll be back then."
He added: "I'll be looking to get back training with the squad soon, hopefully when they're all back from international duty.
"It's just about getting the strength into my legs and while I was only out for a week or so you do lose a bit of fitness. I'll be building it back up and hopefully get back into match fitness."