New Dundee United boss Csaba Laszlo sets top flight target
The Hungarian says his team have the quality to return to the Scottish Premiership.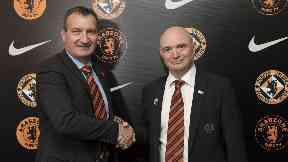 Csaba Laszlo has targeted a top flight return after being appointed Dundee United's new manager.
The Hungarian, who was Hearts boss from from 2008 to 2010, has been given a contract until the summer of 2019.
He is aiming for success this season after succeeding Ray McKinnon.
"I'm really, really happy to be here back in Scotland," he said.
"This job came up and we had long discussions with the chairman about the targets this club have. Dundee United have a very, very clear target, which I accepted.
"We can talk very long about how nice it is to be in Scotland again and the grass is green and the birds are singing but this is very, very simple: our target is the Scottish Premiership and that's all."
He added: "Before I came to the interview, I watched seven or eight games and looked at what's possible to do with the team.
"The quality is there, the players are good enough, and you saw in the last two games they were going in the right direction. So I have to continue this road."
'We spent a long time together, it was a long day. I was tired after spending that time with him.'

Dundee United chairman Stephen Thompson
United chairman Stephen Thomson confirmed Laurie Ellis would remain as assistant manager after working as caretaker boss in recent weeks.
He said after considering several candidates he was sure he had the right man in place to bring success at Tannadice.
"We wanted the right man for the job and he had the right qualifications," Thompson said.
"We looked at his track record, what he has done at other clubs, man-management and tactician.
"We spent a long time together, it was a long day. I was tired after spending that time with him."
Thompson added: "He has a lot of qualities, the media love him after his previous experience in Scotland and he knows what he is doing.
"We wanted to make sure we got the right appointment. Laurie won the first game which took the pressure off. It was such an important appointment and we deliberately took our time."