Csaba Laszlo: Lowdown as new Dundee United boss unveiled
The Hungarian has been confirmed as Ray McKinnon's replacement at Tannadice.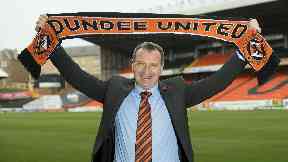 Dundee United have confirmed the appointment of Csaba Laszlo as their new boss.
The Hungarian, who steered Hearts to third place in the 2009-2010 season, has been confirmed by the Tannadice club as the man to replace Ray McKinnon and has signed a deal until the summer of 2019.
We profile the 53-year-old's career in the game before his first game in charge of the Tangerines.
Playing days
Laszlo enjoyed a journeyman existence as a player, plying his trade for seven lower-league clubs across Hungary, Romania and West Germany.
A central midfielder, he was forced to retire at the age of 27 due to a knee injury.
Although the misfortune ended his playing days, it opened a door for Laszlo to move into coaching at an early age and he soon took up a role with BW Kerpen in Germany.
Coaching career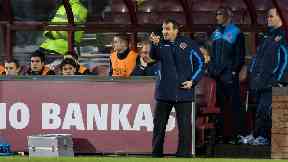 Laszlo's first prominent role was with Borussia Monchengladbach, where he became the Bundesliga side's head youth coach.
After helping produce future German internationals such as Marcell Jansen, Laszlo became Lothar Matthaus' assistant with the Hungarian national team.
He moved into his first management position with Ferencvaros, being named Hungarian trainer of the year in 2005 after a European run that included wins over Hearts and Millwall in the UEFA Cup group stages.
The win at Murrayfield over Hearts included an altercation with the Jam Tarts' then-boss John Robertson, who aimed a kick at the Hungarian's rear end.
He then joined FC Sopron as Ferencvaros ran into financial difficulties before quickly moving back to international football and the Uganda job.
Not put off by his row with Robertson, Laszlo returned to Scotland to take over as Hearts boss in July 2008.
He guided the Jam Tarts to a third place finish in his only full season in charge to qualify for the inaugural Europa League.
The Hungarian was named manager of the year by both the league and football writers for his accomplishments.
His time in charge of the Tynecastle side came to an abrupt end six months later when he was sacked by owner Vladimir Romanov following a disagreement over transfer funds.
After leaving Edinburgh, Laszlo moved to Belgium to take charge of Charleroi but left after just 20 games following a poor start.
He was appointed Lithuania manager next but resigned after a just a year following a run of poor results.
In 2015, he returned to Hungary to manage MTK Budapest. The capital club started the campaign strongly and led the way early on.
A disagreement over transfer policy during the winter break so Laszlo leave the club.
Most recently, Laszlo enjoyed success with Dunajska Streda, steering the Slovakian side clear of the relegation zone while averaging nearly two points per game.
Dunajská Streda narrowly missed out on a place in the Europa League after a record-breaking 16-game unbeaten run.
Style of play
Laszlo's time playing and coaching in Germany heavily influenced his coaching style.
The Hungarian became known for his attention to detail and organisation during his spell in Edinburgh.
Former Hearts winger Andrew Driver told STV how the 53-year-old's training is heavily based on tactics and ensuring his team was hard to beat.
Driver said: "If anything, his style is very German. His football years were in Germany and you can tell as the training was all tactical based.
"It was kind of strange for us Scottish guys as we weren't used to that but as you could see we were very organised, defended well and got results."
Memorable quotes
On criticism of Hearts' style of play:
"It is not possible to win and be ugly, when you win you are beautiful."
After Craig Levein slammed Hearts' time-wasting tactics:
"You must look at what happened here at my house before I go out and talk about the other house about the neighbour.
"You must look to keep my house clean and you don't go to look for the other wives or you have a problem with your wife."
On speculation regarding his future:
"At the moment the priority for me is Hearts. My priority is Hearts and no more! My family and myself would like to stay, definitely! I go now on holiday for the next three hours then work again.
"My children are in school and my wife would like to divorce me because I told her she can go alone on the holiday as I am here to work."
After battling back to a 2-2 draw with Rangers:
"We are guys, we are at Ibrox and we are still in the first half. I wanted to kill some of the people in my dressing room at half time, but then I have to go to jail and we don't get a point! But the second half was sexy."