Falkirk's O'Hara gets eight-match ban for abusing Shiels
The striker has been given a lengthy suspension for excessive misconduct.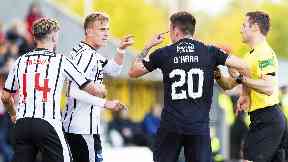 Falkirk striker Kevin O'Hara has been banned for eight matches by the Scottish FA for verbally abusing rival player Dean Shiels.
O'Hara had been charged with excessive misconduct for his behaviour during the Challenge Cup match between Falkirk and Dunfermline on October 7.
It is understood the teenager made comments to Dunfermline's Dean Shiels about his missing eye.
The incident occurred during Falkirk's 2-0 Irn-Bru Cup victory over their arch-rivals on October 3. Shiels was sent off deep into stoppage-time for a challenge on McKee.
An independent panel heard O'Hara's case on Thursday and found he had breached Scottish FA rule 202- that no player shall commit excessive misconduct at a match. Eight matches is the "mid-range" punishment in the guidelines for the offence published in the Scottish FA's Judicial Panel Protocol.
O'Hara has been suspended for eight games, with immediate effect, meaning he will not return to action until the first game of 2018 at the earliest.
The striker's teammate Joe McKee was also charged but his case will not be heard until November 16.
In a brief statement on the club's official website, a Falkirk spokesman said: "The club take note of the decision made by the Scottish FA Judicial Panel and are in the process of requesting the written reasons.
"No further comment will be made at this time."