Football Talk: O'Neill in demand, PSG consider change
Your daily round-up of what's happening across Scotland and beyond.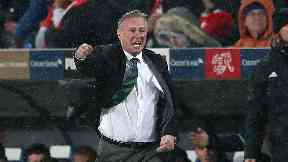 As glorious failure goes, Northern Ireland's play-off pain was up there with any of Scotland's bruising exits.
Up against a side with a formidable record in recent years, only a controversial refereeing decision from the first leg helped Switzerland progress at the expense of Michael O'Neill's side.
The consolation prize for the manager is speculation about where he will end up next.
The 48-year old lives in Edinburgh and has been linked with Scotland repeatedly in recent years.
He is reportedly top of the list to succeed Gordon Strachan and, even better, is said to be available without compensation.
If everything looks to be falling into place, you are forgetting it is Scotland.
The US national team are now reportedly making a move for O'Neill and Everton could turn their attention to him for their vacancy.
O'Neill is lucky enough to have options. Pity poor Unai Emery, manager of Celtic's Champions League opposition PSG.
The side are top of the league and are flying in Europe but rumours that he has fallen out with Neymar, coupled with the club's admiration for Jose Mourinho, mean Emery could be packing his bags.
Elsewhere, Craig Levein has backed Murrayfield as a venue for football internationals, Kieran Tierney has been tipped as a long-term international centre-back and John McGinn has creditied Neil Lennon with his form.
Top stories
The back pages