McCrorie: I feel like proper first team player at Rangers
The teenage centre back is settling into the side at Ibrox after 'dramatic' change.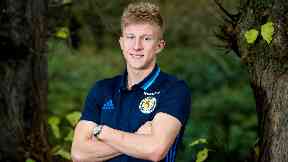 Rangers defender Ross McCrorie now feels like a "proper" first team player after settling into the side at Ibrox.
The teenage centre-back was handed his debut by former manager Pedro Caixinha and has since become a regular in the side, keeping out veteran Portugal Bruno Alves last time around.
He said stepping up had been a huge change but now he has had a taste of the first team he is determined to make the most of it.
"Life has changed dramatically to be honest," he said.
"Obviously making my debut and staying in the team for the last eight games, it has been brilliant and hopefully I can keep building on it.
"And that's me moved into the first team dressing room."
McCrorie revealed there was not too much adjustment on the training ground but having an established place in the dressing room made him feel like he had arrived as a first team player.
"I am up among the first team boys and I am loving every minute of it," he said.
"It hasn't been too much difference because I know them all and train with them every day but I have my locker, that's the difference.
"When you were with the under-20s you always felt like a youth player but now I feel as if I am a proper first team player and feel part of it and hopefully I can get a few more games and see what happens."
McCrorie is now looking forward to taking a step forward on the international stage.
Having replaced the injured John Souttar for Scotland under-21s against Latvia last week, he is now eyeing a starting spot for the qualifier against Ukraine on Tuesday.
He said: "I have made a few appearances for the 21s off the bench but hopefully I can get my first start and we can build on that."