Football Talk: O'Neill £1m deal, Dembele hat-trick
Your daily round-up of what's happening across Scotland and beyond.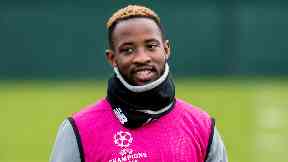 Scotland might be sitting on the sidelines but the international break is bringing heartbreak and failure on a daily basis.
Last night it was Italy's turn, with play-off defeat to Sweden meaning they will miss a World Cup for the first time in 60 years.
It is worth watching Daniele De Rossi's reaction to a substitution when Italy needed a goal, as well as Swedish players led by Mikael Lustig going absolutely tonto after reaching Russia 2018.
It will mean a spell of soul searching for Italy and a likely change of manager but the Azzurri are probably the only team not to have been linked with Michael O'Neill in the last week.
Today's reports have Scotland ready to make the first move for the Northern Ireland boss and offer £1m a year, including bonuses, to take over the national team.
There is nothing like international football to boost a profile and encourage big-money offers.
Celtic striker Moussa Dembele's reputation will have taken another boost from a hat-trick for France under-21s.
Elsewhere, former Scotland assistant Mark McGhee has taken over at Barnet, Danny Lennon is back in the game with Clyde and Ryan Giggs, having failed to land an EPL job, has landed a consultancy role in Vietnam.
Top stories
The back pages