SFA decision on McKee's clash with Shiels delayed 
The Falkirk player is defending himself against a charge of misconduct for abusing Dean Shiels.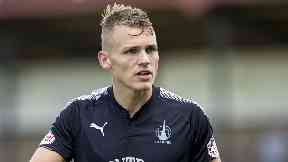 The Scottish FA disciplinary case against Falkirk's Joe McKee has been adjourned until December.
McKee had been charged with excessive misconduct for his behaviour during the Challenge Cup match between Falkirk and Dunfermline on October 7.
The midfielder and his teammate Kevin O'Hara were both charged by the Scottish FA after reports they had made comments to Dunfermline forward Shiels about his missing eye.
O'Hara admitted his guilt and had his case heard a week ago, receiving an eight-match ban for his behaviour.
McKee chose to contest the charge and took witnesses to his hearing on Thursday but the panel did not have time to complete the case on the day.
A brief statement from the Scottish FA said: "The Judicial Panel disciplinary case for Joseph McKee of Falkirk FC was called today and evidence was taken but not completed.
"The case was continued until the 5th of December 2017 for the remaining evidence in the case to be heard."
The incident occurred during Falkirk's 2-0 Irn-Bru Cup victory over their arch rivals on October 3.
Shiels was sent off deep into stoppage-time for a challenge on McKee.