Murty: Failure to win three in a row is 'noise outside'
It has been almost a year since Rangers last won three consecutive domestic games.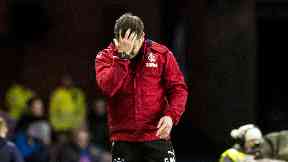 Graeme Murty says talk of Rangers failing to win three games in a row is noise coming from outside rather than within the club itself.
The 2-0 Scottish Premiership defeat to Hamilton Accies prevented the interim boss from winning his third game since returning to the hot seat.
It means Rangers have now gone almost a year since they last won three domestic games on the bounce, when they picked up the points over Hamilton, Hearts and Aberdeen last December.
But Murty says no one inside the club are talking about the unpredictable run of form and it is everyone else who are turning it into something big.
"A lot hasn't been made of it within our walls," he said, dismissing the idea the team had been discussing it. "All that is noise outside.
"I've said to the players today our challenge is to knock over the opponent in front of you but we didn't manage to do that.
"Runs will take care of themselves if we take care of business and we didn't manage to do that today.
"We can't continue to go into the final third as often as we did, create those opportunities not take them and then give two really poor goals away because we don't build confidence, quality or a winning performance if we do that."
Meanwhile, Murty had sympathy for teenage defender Ross McCrorie who was at fault for Hamilton's opener. His weak pass back to Wes Foderingam was intersected by David Templeton to break the deadlock.
"He's down," Murty said. "He's a young man who takes things desperately to heart and we have to make sure we are supportive of him and give him the lessons that he needs to learn and move forward. Mistakes happen and we have to move on.
"I didn't think collectively we moved past that well enough but I still thought we had long enough in the game, more than enough quality on the pitch and opportunities to get something from the game. But post mistake we didn't execute well enough."