Canning: Beating Rangers helps after fraud incident
Hamilton Accies defeated Rangers 2-0 at Ibrox in the Scottish Premiership.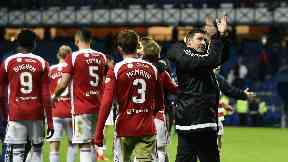 Martin Canning says Hamilton Accies' win over Rangers can be a much-needed shot in the arm after the club were victims of fraud last month.
His side won 2-0 in the Scottish Premiership, their first win over Rangers since 1987 and first victory at Ibrox since 1926.
Accies confirmed midway through October they had been subjected to an "elaborate fraud" which saw them lose a "substantial" sum of money, thought to be over £750,000.
Canning said the players were told at full time that their achievement could have huge long-term benefits for the club and it was one for them to enjoy.
"Obviously it's a huge result for the club and everyone associated," he said. "The directors, owners, the fans, it's a good day and a good night.
"It's a huge result for the club - the directors, owners, the fans. It's a good day and a good night."

Martin Canning, Hamilton Accies manager
"It's such a big result for us to come here and beat one of the Old Firm in their own park but it is one result and we've got to make sure we don't get too carried away with it.
"We'll enjoy it but we have to refocus now for next Saturday. It doesn't happen often. That was 30-odd years ago and it's still talked about now.
"That shows you how these types of moments - like the win at Celtic Park a few years back - are big for the club and everybody can enjoy it.
"The owner came in and spoke to the boys after the game and said it. That's the kind of thing that does keep you going, it keeps those guys going when they've lost a lot of money like that.
"They've got a job to keep the club going and do what they do, so days like today hopefully reinforce that. shot in the arm."