Hibernian miss financial target with £277,000 loss
The club enjoyed success on the park but it came at a cost for the Easter Road side.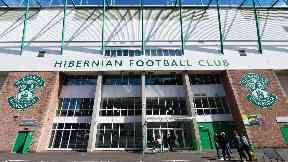 Hibernian have published their financial results for last season, recording a £277,000 loss and falling short of their targets.
The club enjoyed a successful season on the pitch, however, winning the Championship and securing promotion to the top flight, as well as reaching the semi-finals of the Scottish Cup.
The financial statement for the year up to June 30, 2017, struck a positive note overall despite the loss.
In a letter to shareholders outlining the key points, chairman Rod Petrie noted the club had maintained a Premiership-level structure and staffing in their time in the second tier and it was "impossible" to break even during that period without major sporting success.
Turnover of £7.7m was the highest since 2012/13, while Petrie said record level attendances at Easter Road had been achieved.
"The sporting and financial results for last season can be viewed with satisfaction," Petrie said.
"But this is also a time to look forward - and to look forward with confidence and anticipation."
He added: "The board has done all that it can to match the efforts of supporters and deliver a competitive budget for this season.
"The skills of our recruitment and player identification department have been harnessed to identify talent, both externally and from within.
"In conjunction with the head coach, a talented squad of players has been assembled for season 2017-18."
The newly promoted side are third in the Premiership table and reached the semi-finals of this season's Scottish League Cup.