Hearts announce £2.3m profit after 'exceptional donation'
The club spent £6.9m on the redevelopment of Tynecastle in the year to June 30, 2017.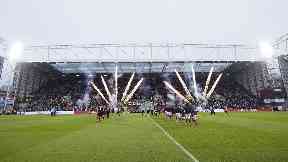 Hearts recorded a profit of £2.3m in the last financial year after an "exceptional donation" of £2.5m from an unnamed benefactor.
The club spent £6.9m on the redevelopment of Tynecastle Park and rebuilding of the main stand in the year up to June 30, 2017.
That figure was offset by the large donation, which was made to help meet construction costs.
Hearts are refusing to divulge the identity of the donor, who committed the money before last year's annual meeting.
The figures are included in the financial statement to shareholders sent ahead of this year's meeting on December 19.
Hearts increased turnover in the last year by £1.3m, largely due to season ticket sales.
Next year's accounts will show further costs related to the redevelopment of Tynecastle, which opened for its first match on Sunday.
Owner Ann Budge revealed the project is likely to run over budget and there is a commitment to spend another £5.9m in this financial year.
The accounts show Hearts have also set up a bank loan for £1.75m which can be drawn upon if needed.
Supporters' group the Foundation of Hearts contributed £1.5m to the costs of the stadium work last year.