Scott Brown eyes another upset in Paris ten years on
The Celtic captain reminisced about Scotland's 1-0 win against France ahead of PSG clash.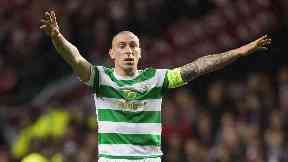 Scott Brown hopes Celtic can do to Paris Saint-Germain what Scotland did to France ten years ago when the two clubs meet in the Champions League on Wednesday night.
The Scottish champions go into the game knowing even a point could be valuable as they look to secure Europa League football.
They are facing a side who handed them a 5-0 defeat in Glasgow at the start of the group stage.
Brown was part of the Scotland team who shocked France with a 1-0 win in Paris a decade ago.
He acknowledged PSG were at the top of the European game but said that a surprise is always possible if Celtic can put in a better performance than they did at home.
"I think everyone knows about PSG, they're a phenomenal team," said Brown, speaking at the launch of the new John Thomson community pitch in Fife.
"We've got to dig deep and go over there and believe that we can get something. We've got to play together as a team and probably play one of the best games of our lives, to be perfectly honest, to get something.
"We've got to defend better as a team. We've got to be a little bit more aggressive in the tackle, getting closer to them."
'The last time I was over I got a result with Scotland so you never know what can happen.'

Scott Brown
He added: "We maybe showed them a little bit too much respect in the first game and let them dictate what they did at Celtic Park.
"It's not like us, especially at home and in front of our own crowd but when you're spending £200m on players then sometimes they've got the right to beat a man or two.
"Pretty much nobody in the world expects us to get a result in Paris but you never know what can happen. The last time I was over I got a result with Scotland so you never know what can happen."
Brown said the memorable night for Scotland was already in the history books but it was proof no side could be written off.
"It was ten years ago," he said. "Me and Craig [Gordon] were talking about it today but half the lads didn't even remember the game or that we played and couldn't believe it was only ten years ago.
"To do the double-header against France back then was unbelievable because they were one of the best teams around then. So you never know what can happen."