Football Talk: Van Bronckhorst ruled out, Alves mystery
Your daily round-up of what's happening across Scotland and beyond.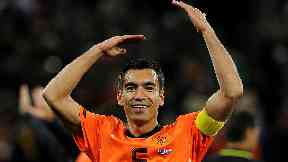 Another day, another link to a vacant manager's job.
This time it's Rangers and former midfielder Giovanni van Bronckhorst has ruled himself out of a return to Ibrox.
Meanwhile, there are some question marks over Bruno Alves and his reason for missing the weekend defeat to Hamilton Accies.
One publication is saying he refused to be a substitute while another puts his absence down to injury.
And down south there is joy and laughter a plenty at Manchester United... well, that was until Jose Mourinho scheduled a Christmas Day training session at Old Trafford rather than their training ground.
An additional 30 members of staff are apparently now required to work taking the total to 50. Are they cooking them all Christmas dinner?
Today's top stories
The best of social media
ICYMI
Today's back pages