Rodgers: Paris return will motivate Dembele further
The Celtic boss says Didier Deschamps will be looking at his striker for the France squad.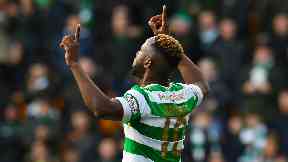 Celtic manager Brendan Rodgers says Moussa Dembele will be highly motivated to shine against former club Paris Saint-Germain in the Champions League on Wednesday night.
Dembele spent eight years in PSG's youth system and returns to Paris having forged a reputation as one of Europe's brightest prospects, linked with several high-profile clubs.
Rodgers said that the crowd in Paris would be seeing a player who has developed at every stage in his career so far and is well placed to establish himself at the top of the game. He said that the next stage for the striker would be to step up to full international level with France and said he believed national team coach Didier Deschamps woudl already be considering that move.
"I think that for the boys that are returning to France there's always a big motivation," Rodgers said. "I think for Moussa, he left Paris when he was 15 and went to Fulham where he progressed really well in that formative stage of his young professional career.
"He made the step out of Fulham to come to us and it is what it is. It was always going to be a step for him and I believe he's got the talent and the quality to go right to the very, very top.
"He has his footballing qualities but also has that self-belief. In my coaching life and managerial career I've worked with top talents, especially at that end of the field. I certainly think he's on course to be up there with the best strikers because he has all those attributes.
"He's still very young. He's shown it for Celtic, he's shown it for the French Under-21s and I'm sure Didier Deschamps and his staff will be looking at the next step for him, which I believe will be into the full national team.
"He's a big talent and he's developing very, very well."
Despite Dembele's rise, Rodgers has a decision to make over his starting striker with Leigh Griffiths also in form. The Celtic boss praised both players and said their different styles gave him welcome options.
"It's perfect," he said. "We wouldn't want it any other way.
"When you're a manager you want to have that kind of competition: two players that have different qualities and I know that if I play one I'll get a certain type of game, if I play the other [something different].
"But what I can get from both is goals. Leigh has shown his qualities in the Champions League already in qualification and in Anderlecht. Likewise, Moussa has shown last season and will want to show this season again.
"Both players are very important. I've got a young player on loan from PSG, Odsonne Edouard, who's hardly featured. That's been unfortunate for him because he's working every so hard in training but because of the performance level of the two other players it's been difficult for him."