Gordon: Celtic need to be more aggressive against PSG
The Celtic goalkeeper says even a point from the game in Paris would be "enormous".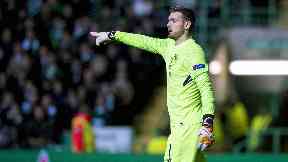 Craig Gordon has said that Celtic need a more aggressive performance against Paris Saint-Germain than they showed in the group stage opener.
PSG took a 5-0 win in Glasgow with a display that showed why their front-line is rated as amongst the best in the game. Gordon said that Celtic showed the superstars from the French side too much respect and won't make the same mistake on Wednesday.
"We've watched the previous game back," the goalkeeper said. "We've got ourselves a game plan and we know what we're coming here to try and do.
"We know it's going to be difficult to implement that but we want to give ourselves a chance to stay in the game as long as possible.
"We can show teams a little bit less respect. I think we knew they were a good team and maybe sat off a little bit. We can be more aggressive than we were in the first game.
"We didn't make many tackles and we're looking to do more of that in this game."
Gordon said that the PSG front three of Neymar, Edinson Cavani and Kylian Mbappe was among the best he has faced. He conceded that if Unai Emery's side are at their best, it may be impossible to contain them and that even a draw in the Parc des Princes would be "enormous".
"I've been lucky enough in my career to come up against most of the best strikers in the world at some point but that was up there with the best I've seen," he said. "The PSG performance in that first game was sensational.
"We can't get away from the fact that they were that good and sometimes it doesn't matter what you do in a game if you come up against a team that's in top form and played the way they did that night. Sometimes you have to put your hands up and say they were just too good.
"It would be enormous. They've not even been conceding goals so it's difficult for anybody to come here and think about getting a win, never mind a draw.
"We'll give ourselves a chance and try to get a good start in the game. That's what we'll concentrate on. If we can do that and frustrate them for a while then we'll give ourselves a possibility later in the game."