Football Talk: O'Neill to snub offer, new McCrorie deal
Your daily round-up of what's happening across Scottish football and beyond.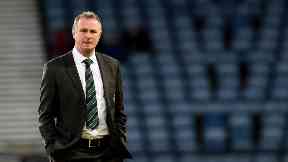 Good morning and welcome to your daily managerial update.
Today the focus is back on Michael O'Neill after he was offered a bumper four-year extension to his Northern Ireland contract, which still has two years to run.
It has been reported he will turn the offer down though, leaving him open to continue talks with Scotland... or see if the supposed West Brom interest is accurate.
Elsewhere, Rangers look set to offer twin brothers Ross and Robby McCrorie new deals and Dundee have taken goalkeeper Jeremy Malherbe on trial.
So what does that mean for Scott Bain's future...?
Today's top stories
Champions League build-up
ICYMI
The best of social media
Today's back pages