What French media say ahead of PSG v Celtic clash
Brendan Rodgers' side are in Paris for the fifth group game of the Champions League.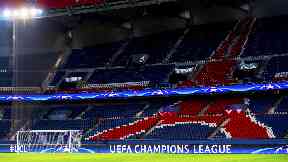 Celtic take on Paris Saint-Germain away from home on matchday five of the Champions League and the French media have been warming up for the clash.
We've taken a look at what France Football, L'Equipe and Le Monde have been saying ahead of the fixture.
The players picked out for more in-depth coverage should not come as a surprise.
Celtic cannot progress in the Champions League but they will be looking to keep their Europa League dream alive as well as pull off a more respectable score than the first encounter, which they lost 5-0 at home.
Dembele's homecoming
While Celtic fans debate who should start up front between Leigh Griffiths and Moussa Dembele, all French eyes are on the latter.
The striker is returning home to where he spent the majority of his youth career and the media in Paris are keen to see how he has progressed.
France Football speaks to some coaches and former team mates who recall their memories of Dembele's youth career, while L'Equipe compares him to two of PSG's players who also came through the ranks at the same time.
It's always about Neymar
It's hard to talk about this fixture, or make any predictions for that matter, without talking about Neymar.
France Football have looked at the striker, the impact he has made since his summer arrival and what he is perhaps doing wrong.
Complete with tables and stats this one breaks down the key player who could punish Celtic in the Parc de Princes.
The danger of Draxler
You can't call Julian Draxler a regular this season but he has managed to feature in all four of PSG's group games in the Champions League so far (albeit one appearance was inside stoppage time).
L'Equipe looks at the frustrating battle he faces in dislodging Neymar and Kylian Mbappe as well as how this might be possible due to his ability to adapt to different positions.
(Requires subscription)
The weekend reaction
PSG's unbeaten run may not be as impressive as Celtic's but they are still without defeat since July.
That was against Juventus in the International Challenge Cup, though, so to keep it on a par with Celtic's domestic run you have to go back to April, when they lost 3-1 to Nice.
On Saturday, they extended their run further with a 4-1 win over Nantes after goals from Javier Matiasa, Angel Fabian and an Edinson Cavani double.
Three of their players made it into the France Football team of the week, while you can also catch up on the live blog from the game if you want to find out more about what happened and what the fans were saying.
Bored of reading? Take a quiz instead
L'Equipe want to put you to the test and find out how well you know your Celtics.
Glasgow, Vigo or Boston, do you know the difference? Here are ten questions for you to prove it.