Football Talk: French mark Boyata down, Rodgers' sarcasm
Your daily round-up of what's happening across Scotland and beyond.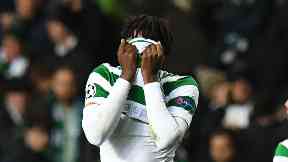 The less said about Celtic's night in Paris the better but unfortunately for them everyone is out to analyse what went wrong.
L'Equipe was particularity harsh with its player stats, giving no one in a Celtic shirt more than three points. Poor Dedryck Boyata was handed a one.
Brendan Rodgers made a sarcastic dig in his post-match interview asking if Celtic should field seven at the back. It was an awkward watch.
And Chris Sutton couldn't resist a dig on Twitter by bringing Rangers into the equation after their defeat to Hamilton at the weekend.
Champions League reaction
Elsewhere...
ICYMI
The best of social media
Today's back pages