Football Talk: Celtic festive advert, Peru out World Cup?
Your daily round-up of what's happening across Scotland and beyond.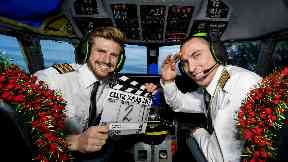 It's that time of year again... no not the Coca-Cola Christmas Truck, not the John Lewis advert... the Celtic Christmas advert.
In previous years we have seen some eye-opening sights, none more so than Leigh Griffiths dressed as an elf.
Surely they can't top that today? Well check out their 2017 effort in our social media section below and decide for yourself.
Elsewhere there has been a lot of talk surrounding whether or not Peru will be allowed to go to the World Cup and if not who would replace them.
If their football association is put under the control of the Institute of Sport, as proposed, then FIFA may choose to exclude them for meddling with the rule book.
Some want Italy to get their place instead, others say it's only fair if New Zealand get it, others say there's no chance Peru will get the boot.
Us? We're saying Scotland should get it. Obviously.
Today's top stories
ICYMI
The best of social media
Today's back pages