Football Talk: Brown's dancing, St Johnstone's fancy dress
Your daily round-up of what's happening across Scotland and beyond.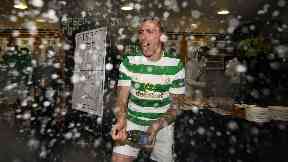 Celtic are waking up to yet another trophy this morning and no one is happier than Scott Brown.
The captain showed off some exquisite dance moves in the dressing room after his side's 2-0 League Cup final win at Hampden.
The Motherwell camp are finding it hard to take, though, after the disputed penalty that essentially killed the game.
Meanwhile, the St Johnstone squad have had their Christmas night out already and sticking to tradition they got into full fancy dress mode.
Catch up with all the cup final reaction and more in today's Football Talk.
Today's top stories
Cup final reaction
The best of social media
Today's back pages