Football Talk: Miller on Rangers exile, St Mirren go top
Your daily round-up of what's happening across Scotland and beyond.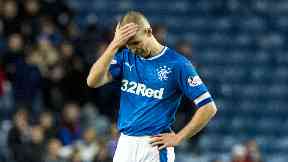 Kenny Miller has continuously tried to avoid speaking about the time he was exiled during Pedro Caixinha's reign.
While the Rangers striker may not want to go into detail about what happened he has, however, started to open up about how it felt.
He says there were "malicious" things being said that were defamatory towards his character and "only one man could have cleared it all up".
Meawhile, St Mirren have leapfrogged Dundee United to the top of the Scottish Championship table and are confident of keeping rising talent Lewis Morgan until the end of the season.
Hampden Park could host the opening game of Euro 2020. The stadium that's already holding three fixtures in the tournament has been shortlisted ahead of the big reveal next Thursday.
Today's top stories
ICYMI
The best of social media
Today's back pages