Canning hits back at Lennon's 'caveman' tactics comments
The Hibs boss said Hamilton's physical play was like something out of the 1950s.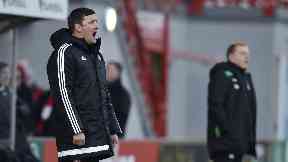 Hamilton Academical manager Martin Canning has hit back at Neil Lennon after the Hibernian boss accused his side of "caveman" tactics at the weekend.
The Edinburgh club drew 1-1 at New Douglas Park on Saturday, leaving the visiting manager frustrated.
He watched Hamilton pick up five bookings in the physical battle but was openly critical after the game, saying his players lacked protection from the officials.
Canning said Lennon was wrong to talk about his players in the manner he did, suggesting it was one of the Hibs players who committed the worst foul of the game.
Speaking at full-time on Saturday, Lennon said: "We're going back to the 1950s here. I like a tackle, I like hard men but anyone can kick people. They were taking swipes at us any opportunity they could.
"How they ended up with 11 men on the pitch is beyond me. No protection for him whatsoever, it was caveman stuff."
'You can do two things - you can lie down and roll over or you can stand up and try to be competitive.'

Martin Canning, Hamilton Accies manager
Canning responded: "Maybe after the game he was a bit frustrated that they hadn't won the game. But one thing I wouldn't do in the same situation, is comment on other team's players.
"I'd maybe make a comment on my own team, or the referee if I felt a decision that went against us, but I would never have bad words to say about another team's players, that's not for me.
"But that's Neil, he has his opinion but I won't get involved."
He added: "I've watched the game back and I didn't think we were overly physical. I think if anything the worst tackle in the game was John McGinn's tackle but that's football.
"It's not something that I associate with our team - that we're overly physical. That's not the case. I think it's just something Neil said and I completely disagree with him but that's his opinion.
"For me you can do one of two things - you can lie down and roll over or you can stand up and try to be competitive and try to grind out something from the game, and that's what we did."