Football Talk: McGregor accused, Rangers AGM questions
Your daily round-up of what's happening across Scotland and beyond.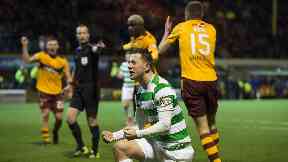 It isn't usually considered to be one of Scottish football's powderkeg fixtures but Motherwell and Celtic have served up some fireworks once again.
Sunday's League Cup final brought a penalty incident and red card that kept everyone talking long after the final whistle and Wednesday night's Premiership clash brought plenty more to debate.
Motherwell were close to ending Celtic's long unbeaten run but with only a couple of minutes left the visitors got the chance to level from the spot.
Scott Sinclair, cast as the villain by Motherwell fans for his part in Sunday's incident, scored from 12 yards to earn his side a point.
Referee Willie Collum said Andy Rose had fouled Callum McGregor. Rose said McGregor just "flopped over".
Brendan Rodgers said Motherwell are "angry about everything".
All eyes on Saturday when the third part of the trilogy kicks off at Celtic Park.
Rangers received a welcome boost ahead of the club's annual general meeting with a 3-0 win over Aberdeen but that doesn't mean the board will get an easy time of it this morning.
The head of the Rangers Supporters Association is demanding answers about the delay in appointing a new manager.
Elsewhere, Andre Villas-Boas has switched sports, quitting as manager of Shanghai Shenhua and heading to South America to take part in the Dakar Rally.
And there was plenty of entertainment as Manchester City defeated Southampton with Pep Guardiola furiously telling opposition player Nathan Redmond what a good player he is and Benjamin Mendy sprint-limping to join celebrations despite a serious knee ligament injury.
Top stories
The best of social media
The back pages