Dave King: Rangers considering managers at other clubs
Ibrox chairman says club expect to make a move on Pedro Caixinha's successor soon.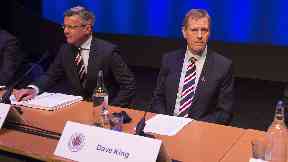 Rangers chairman Dave King says managers at other clubs are being considered for their vacant position.
The club have been searching for a new manager since sacking Pedro Caixinha on October 26.
An update from Ibrox on November 10 said a number of applications had already been received, with more expected in the following week, and "viable options" would be considered from that point on.
In his address to shareholders, King defended Caixinha's appointment and said it had been a unanimous decision by the board to hire the Portuguese.
He said a "thorough" search for a new manager was ongoing but the club was considering people currently in jobs, which would likely require compensation to be paid.
King said: "Shortlisted candidates for the current vacancy include individuals currently with other clubs. We should have something to report shortly in that regard."
In addition, he revealed the intention is to offer a three-year contract with the hope for long-term stability.
Responding to a shareholder question about the amount of time taken to appoint a new boss, he said he did not think the delay was unacceptable given the importance of the position.
In a statement later published on Rangers' website, King said: "In my opinion, what would truly be wrong is if the board made a quick knee-jerk appointment without a thorough consideration of the options available at the time just because it appealed to certain sections of the media, or to some of the more outspoken supporters. "The appointment of a manager is far too serious for us to endorse such a frivolous approach. "The search for Pedro's replacement has also been thorough and of appropriate duration under the guidance of Mark Allen, the director of football. "Based on the manner of Pedro's departure we had to first re-evaluate the criteria we required of our new manager prior to going through the detailed process that I have already referred to."
Development squad coach Graeme Murty has been working as caretaker boss since Caixinha's departure, winning three of his five games in charge.