Motherwell accuse Celtic fans of vandalising Fir Park
The club have issued a strongly-worded statement on their two meetings with Celtic.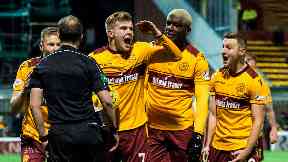 Motherwell have accused Celtic fans of vandalising Fir Park during their Scottish Premiership clash on Wednesday evening.
In a statement the club say they are investigating the travelling support for breaking more than 200 seats in the away end, damaging toilets and graffitiing the South Stand.
They have also confirmed they have contacted the Scottish FA over the standard of refereeing in their last two clashes with Brendan Rodgers' side.
Motherwell conceded a controversial penalty in each of their meetings this week, firstly to Scott Sinclair in the League Cup final on Sunday and then Callum McGregor in Wednesday's Scottish Premiership clash.
In addition, they have noted Scott Brown's complaints that home fans threw objects at the Celtic players and say they are investigating his claims.
The Celtic captain accused rival supporters of throwing coins at his side on a weekly basis and said it happened again at Fir Park on Wednesday.
Despite the headlines focusing on the controversial late penalty that salvaged a share of the points for Celtic, Brown said there were more pressing issues to address.
Speaking on Wednesday afternoon he said: "You take a corner and you have to look over your shoulder to see what's coming. Eventually someone will get hit in the head with a coin but until that happens probably nothing will be done about it."
Motherwell say they will take appropriate action against any individual that is found to have acted unacceptably.
Focusing on all three subject matters, the club have stated: "Whilst everyone in football accepts match officials have a challenging role, and getting everything correct is almost impossible, it is disappointing to see high profile decisions affect both Wednesday night's match and the League Cup final in the way they have.
"To that end, we have made contact with the Scottish FA's Head of Refereeing to express our views and seek feedback.
"In addition, the board would like to thank our fans for yet another strong turnout and for their backing of the team. Our average attendances are up almost 30% this season as Stephen Robinson and his squad continue to capture the imagination.
"However, we also note the comments of the Celtic captain today. As we do at every match at Fir Park, if any incidents are reported to us, we will fully investigate them. Should any evidence exist, we will take appropriate action against any individuals who have acted unacceptably.
"In addition, we will work with Celtic Football Club to fully investigate, amongst other things, the numerous acts of vandalism, including 206 broken seats, damaged toilets and graffiti in the South Stand."