Key points from the Rangers annual general meeting
Chairman Dave King addressed a number of issues at the Ibrox club and their future plans.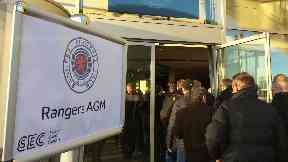 Dave King has told Rangers' annual general meeting the club cannot take on excessive risk to improve in the short-term but is making progress in its efforts to deliver better results on the park.
The club chairman spoke to shareholders at the SEC Armadillo in Glasgow on Thursday with the search for a new manager high on the agenda for fans.
King gave an update on recruitment as well as on finances.
In his statement and in reply to questions from the floor, he also addressed youth development, the end of the Sports Direct deal and his dealings with the Takeover Panel.
On appointing a new manager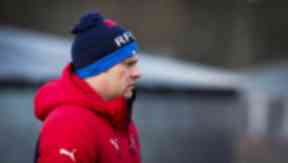 Five weeks after Pedro Caixinha was sacked, Graeme Murty remains as caretaker boss of the first team but King said movement on a permanent appointment would happen soon.
He stressed that the importance of getting it right outweighed any time concerns.
"If I'm making an executive appointment to one of my companies in South Africa it might take me three months to find somebody," he said. "It's a very, very important position.
"The fact we lose to Hamilton or Dundee doesn't change who the [next] person should be. The fact we beat Aberdeen doesn't change it either.
"We have got to be careful we don't allow the immediate impact of a game-to-game basis drive a decision that is going to last for years."
He added: "I myself am very happy we have taken an appropriate amount of time. I can absolutely assure you we are not short on opinions as to who the manager should be.
"It's a very thorough process for an appointment that will be for three years. We're looking for something long-term and I assure you it's being done with the thoroughness you'd expect."
On Pedro Caixinha's sacking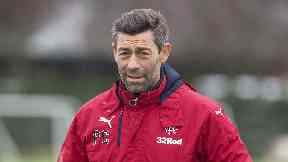 Though Caixinha was dismissed after poor results and failing to string together three consecutive wins during his time in charge, King said he did not believe it was proof he was the wrong appointment.
He said: "On the issue of manager appointments, I personally don't subscribe to the position of those who advance the view that it must have been wrong to have hired a particular manager simply because the results during the season necessitated the removal of the individual in question.
"The simple fact is that any manager can fail in any season.
"The issue with Pedro is not one of succession planning. There may be a perception that Pedro was doomed to failure. That wasn't my view and the rest of the board's view."
He added: "We continued to back Pedro and no one was more disappointed than I was that he did not get the chance to carry out the type of job that I felt he could have done for the club.
"Ultimately results speak for themselves and we had to take action."
On club finances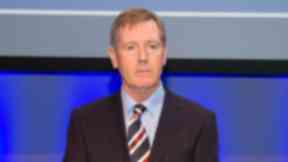 Rangers have been running at a loss and aided by loans from King and other shareholders, with a commitment to similar funding before the end of the season.
Shareholders voted on a resolution to allow some of those loans to be converted to equity, with the result to be announced at a later date, but King said there had to be caution.
He said: "The board remains committed to the prudent use of debt funding but, in doing so, it remains essential that the board does not significantly deviate from its approved financial plan as a result of supporter and media pressure during one specific season and thereby abandon the financial discipline that is so essential to ensuring football and commercial success over the medium to long term.
"Of course, running a loss-making business requires funding and this requires the ongoing support of shareholders to ensure that the legal permissions are in place. We cannot do as we please when introducing funds.
"So far, the board has been successful in securing the cash resources that have been required - often at short notice - but we cannot take future funding for granted if there is no end in sight to the company's losses or if we take on excessive risk during this intervening period."
On the Takeover Panel
King was ordered by the Takeover Panel to make an offer to buy the remaining shares in the club after it found he was acting "in concert" with three wealthy fans nicknamed the Three Bears.
The panel ruled King teamed up with George Letham, George Taylor and Douglas Park to acquire more than 30% of voting rights in Rangers in late 2014.
That would have triggered an automatic offer to buy out remaining shareholders at a cost of £11m.
A final decision on the case is to come from the Court of Session and King explained why he had challenged the order.
"The matter was heard at the Court of Session," he said. "We've not yet had the ruling from the judge.
"I invested into Rangers Football Club by one of my trust companies, which is New Oasis Asset Ltd. It has made investments and advanced loans and will continue to do so."
He added: "The Takeover Panel ruled - in my view incorrectly - that I in my personal capacity would have to make an offer for all the shares.
"My argument is that any offer has to be made by the company, not by me personally. It is not my intention to hold shares personally."
On recruitment and player sales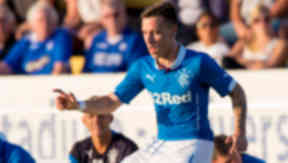 King reiterated previous comments that player recruitment under Mark Warburton had not been good enough and said the same applied to Caixinha.
He also accepted the club had not achieved the best prices for players who had left Ibrox.
"The failure of two managers to get the team to perform at a higher standard was extremely disappointing," he said.
"We most certainly have not seen a commensurate return on the significantly increased investment that was made.
"Once again,a significant part of our increased player budget has been tied up in resources that have not, up to this point, made a meaningful contribution on the pitch."
He added: "If we take the Barrie McKay situation. We had speculation over offers last year from RB Leipzig. We never believed it but at that time maybe he was worth two million euros.
"We end up selling him for £500,000. In my personal view, I view that as bad management by ourselves.

"If we have a player we think we can move on, it is not helpful to make that player go and play for the Under-20s. That's something we've discussed.
"We don't want to create a situation where the market views us as a fire sale."
On Sports Direct and a new kit deal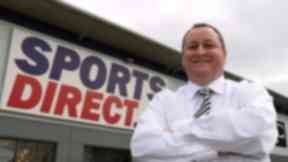 King highlighted the end of the deal with Mike Ashley's company as a hugely important moment for Rangers.
"The most significant highlight of the year was the successful conclusion of the Sports Direct litigation," he said.
"The settlement amount paid by the club was £3m, which is a great outcome that will yield many multiples of this in the years to come now that we have regained control of our retail asset, in fact we will get all of that back in the first year."
He added: "At the time that we announced the settlement, we were legally prevented from disclosing the £3m payment due to the confidentiality clauses that Sports Direct insisted upon in the legal contract.
"However, under accounting regulations we were obliged to disclose it in the annual report and that overrode the confidentiality clause in the agreement.
"The settlement payment was fully funded by interest-free loans from shareholders."
King also disclosed talks with suppliers on a new kit deal would begin this week, with the existing Puma contract due to end this summer.