Graeme Murty: Nothing will compare to managing Rangers
Interim boss Graeme Murty says it will be hard to find a club that compares to Rangers.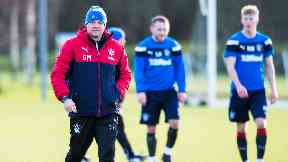 Interim boss Graeme Murty believes it will be nigh-on impossible to replicate the feeling of managing Rangers elsewhere.
The former Scotland international has been warming the Ibrox hotseat on a temporary basis since Pedro Caixinha's sacking from the role five weeks ago.
With the Rangers hierarchy confirming the club is making progress in their search for a permanent successor to the Portuguese coach, Sunday's trip to Pittodrie could be Murty's last match in charge of the Light Blues.
Asked if his second stint in charge of Rangers had reaffirmed his management ambitions, Murty said it would be very difficult to match the emotion of leading the club.
He said: "It's a marvellous honour to be sitting here talking to the media and being at the forefront of what this football club are trying to do because when you see what this club is all about, it really is a fantastic environment.
"As to management, I don't know where I could go that gives me the same feeling that this place does but that is something I will have to take away and have a look at and consider alongside my family.
"Since I've come to this place I've been fascinated and a little awestruck at the size and scale of the operation, the depth of feeling that it engenders in the support and the players, it's a very special club.
"Nothing could compare to this place, it is singular and out their on its own."
'Nothing could compare to this place, it is singular and out their on it's own.'

Graeme Murty on managing Rangers
After last Friday's setback in Dundee, Murty rejigged his side's formation and starting line-up against Aberdeen, employing Carlos Pena and Ross McCrorie at opposing ends of a midfield diamond.
Murty praised the duo's displays as Rangers won 3-0.
"We changed the shape slightly, it gave Carlos (Pena) the freedom to get into the box and, lo and behold, he did what he does which is get in the box and score goals," he said.
"Him coming in and scoring, I'm not sure what more a manager can ask of a player coming back into the team.
"I asked him to play as a number ten, a very nuanced position, and he went and did that, showing some wonderful touches.
"Carlos has had to adapt to an awful lot. He's come across the continent to a new environment, new playing styles and refereeing standards and now he has had to adapt to a new manager and style of play."
He added: "Ross is a young man with lots to learn but he can take his attributes and play lots of positions - at centre half, both sides full back and at holding midfielder.
"He's good enough to cope in new situations.
"He's been working close to Bruno (Alves), Danny (Wilson) and Fabio (Cardoso). He sees high-level operators and these habits rub off. He's still a young man and it's our job to maximise his potential."