No further action to be taken against Levein and MacPhee
The Hearts management duo were sent to the stand at Tynecastle on Saturday.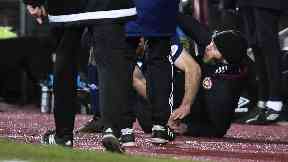 Hearts manager Craig Levein and his assistant Austin MacPhee have both avoided further action after being sent to the stand during Saturday's draw with Hamilton.
MacPhee was dismissed after an altercation with Accies midfielder Darion MacKinnon when both fell to the ground grappling for the ball after it went out for a throw-in.
Levein had earlier been sent from his technical area after a standoff with referee Bobby Madden, refusing to go to the touchline for a discussion with the match official.
The incidents have been reviewed by the Scottish FA compliance officer and no further action will be taken, meaning both are free to take their places in the dugout for the match against Motherwell at Tynecastle on Saturday.
At full-time on Saturday, Levein made it clear he was unhappy with Madden's handling of both incidents.
Asked if the official lost control, Levein said: "Those are your words. I'd agree with that. It was just the amount of mistakes he was making. I was frustrated by that.
"I have no idea why he sent me off. He never told me. Do I think he should have came to me? He ran 25 yards, why not run another five? Other than just to show who's the gaffer. It's stupid, eh?
"I don't think I did anything wrong. He didn't tell me why I got sent to the stand. If it's for not walking four yards, that is bizarre."
He also believed McKinnon should have been shown a second yellow card for his part in the confrontation with MacPhee.
"I don't know how Austin can get blamed for that situation," he said. "He had a hold of the ball and he was rugby tackled.
"If one player is holding the ball on the field and another player rugby tackles him, what happens? Both players then get penalised.
"My point is that even if Austin is holding the ball and then gets rugby tackled on the pitch they both get booked."