Celtic will be unseeded in Europa League knockout draw
Brendan Rodgers side have achieved their aim of European competition after Christmas.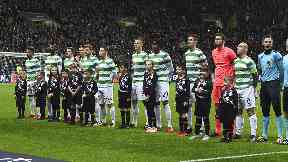 Celtic have qualified for the Europa League knockout stages after finishing third in their Champions League group but will be unseeded in the draw for the last 32.
The Scottish champions' hopes of reaching the latter stages of Champions League ended early as first and second seeds Bayern Munich and Paris Saint-Germain imposed themselves on the group.
A win over Anderlecht in Brussels, however, means Brendan Rodgers' side drop into the Europa League despite losing 1-0 to the Belgian side in their final group game.
That ensures at least one home and away tie in the new year, though Celtic will hope to go deep into the competition.
Possible opponents won't be fully known until the Europa League group stage concludes on Thursday but Celtic will not be seeded in the draw, which takes place on Monday, December 11.
The eight teams dropping into the competition from the Champions League are ranked by their points total from the elite tournament and Celtic are not among the top four, who will be seeds.
Villarreal, Arsenal, AC Milan, Red Bull Salzburg and Lazio are already confirmed as seeds, having topped their Europa League groups.
Ties for the Round of 32 will take place on February 15 and 22.