Shinnie: Managers would be queuing up to replace McInnes
The Aberdeen captain says the position will be coveted should it become vacant.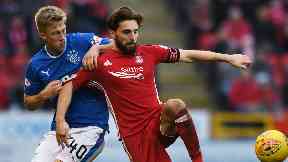 Aberdeen captain Graeme Shinnie says the manager's position at the Pittodrie club would be a coveted role should Derek McInnes depart for Rangers.
Coaches Paul Sheerin and Barry Robson have stepped in to take training in McInnes' absence after an initial approach for the Dons boss from Rangers was rejected by the Aberdeen board.
Sheerin, who took on the manager's media duties on Thursday, confirmed an outcome will be reached regarding McInnes' future later on Thursday.
Skipper Shinnie said he would be disappointed to see the man who brought him to the north east club leave but believes bosses will be queuing to take over should McInnes depart.
"Naturally, I want the manager to stay," said Shinnie. "He brought me to the club and we've had some good times - if he does decide to leave, that's football.
"I am sure there will be managers waiting for this job should it come up, and it will be an exciting one, but naturally you'd want the manager to stay."
He added: "I'd never feel let down, everyone has different reasons for doing what they want to do, nobody can question that, we have a job to win football games, our form hasn't been as good and we need to turn that around.
"The manager has his reasons for the situation and will make the decision based on what he feels, we are still in a good position despite losing six points to Rangers and are still in that fight."
Rangers' six-week search for a new boss has coincided with a downturn in Aberdeen's form.
The Dons lost back-to-back fixtures with the Ibrox outfit last week and Shinnie says focus is on returning to winning ways on Friday against Dundee.
He said: "Results haven't been good enough and we need to focus on turning that around, starting Friday. There is a big month coming up.
"Paul has come in and training has been brilliant, the tempo has been brilliant, we can only keep on the straight and narrow ahead of Friday.
"It's important for us as players to put it to the back of our mind and fully focus on Friday."