Rangers issue response to Derek McInnes decision
Graeme Murty will remain as caretaker manager until January at the earliest.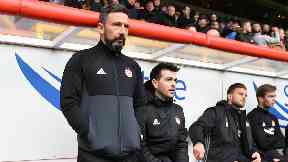 Rangers have issued a statement explaining their position regarding Derek McInnes' decision to remain at Aberdeen and not discuss their managerial vacancy.
The Ibrox club said that their search for a new manager will continue but that Graeme Murty would remain in place as caretaker manager until the end of the year at the earliest.
The Ibrox club had asked for, and been refused, permission to speak to McInnes about their managerial vacancy earlier this week. Aberdeen announced on Thursday that McInnes had decided to remain in his post at Pittodrie.
Rangers claim they wanted to "assess his readiness and willingness" of McInnes, who has led Aberdeen to second place in the Premiership in the last three seasons. The club said it "endorses" McInnes' decision.
Rangers has been looking for a successor to Pedro Caixinha since sacking the Portuguese coach six weeks ago.
The Rangers statement read: "There has been a great deal of media speculation regarding the appointment of a new manager. We assure all supporters that they will be the first to know when we are certain we have someone with the correct qualities required by our club.
"The chairman made it clear at the AGM that the club did not consider there to be an outstanding candidate among those who had applied for the position and the club was therefore considering managers currently under contract. This requires permission from their present clubs.
"The position of Rangers manager requires an ability to win football matches and the mentality to cope with the demanding off-pitch environment that goes with being the Rangers manager. This is a critical aspect of our assessment of any candidate during the interview process.
"After the two games against Aberdeen, we requested permission to engage with their manager to assess his readiness and willingness to consider the Rangers position. This was declined.
"We were subsequently made aware by Aberdeen's statement that, at this stage in his career, it would be best for him to remain in his current post. We endorse that position because moving to a massive club like Rangers is a big step with concomitant risk. We continue to consider candidates but will only appoint someone in whom we have full confidence and who feels he is ready for the job.
"In the meantime, we have great confidence in Graeme Murty, who will continue as interim manager at least until the end of the year. The manner in which he has approached this task is a credit to himself and the club."