Lennon: That's biggest battering I've given Rangers as boss
The Hibernian boss said the penalty call in the 2-1 defeat was "a clear handball".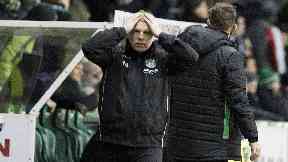 Hibernian head coach Neil Lennon saw his side lose 2-1 at Easter Road but said his team handed Rangers the biggest battering in any of his games against the Ibrox side.
Lewis Stevenson had put Hibernian ahead before goals from Josh Windass and Alfredo Morelos gave Rangers the upper hand before the break. In the second half, Hibs created numerous chances and were denied a penalty in a controversial moment but Lennon was impressed by his side's overall performance.
"I've been involved with Celtic and it's probably the biggest battering I've given to Rangers as a manager," he said. "Second half we were just camped in and the quality of football and the pace that we played with was fantastic to watch.
"I'm disappointed to lose the game but I'm delighted with the overall performance. There was a lot of quality out there tonight.
"I don't feel hard done by. I thought we were sensational. We didn't get what we deserved.
"Sometimes, that's football. We've hit the post twice, worked the goalkeeper, we missed good chances first half. I think the goalie should do better with the two goals. He'll have to look at that himself.
"In the throes of the game we were outstanding. The two wingers in the second half were unplayable. We can't keep putting in good balls and not get on the end of things. That's the only frustration for me, really. We flashed umpteen balls across the box and they went begging.
"However, our standard of football was superb. We really got to grips with the game and thoroughly deserved at the very least a point."
The coach was clear that his side should have had a chance to level from the spot when Rangers defender David Bates used his hand to control the ball.
"It's a clear handball," he said. "It's as clear a handball as you will see.
"His hand is on the ball. He's even leaned into it. The linesman's got a great view of it so how he can't give it is beyond me.
"You can tell by the reaction of the players as well. We didn't get a great view of it from the dugouts, obviously, but when you see it again it's as blatant a penalty as you'll ever see.
"It's a disappointing decision, a very disappointing decision."