Transfer Talk: No Naismith wage, Hibs sign Aussie striker
Your daily round-up of what's happening across Scotland and beyond.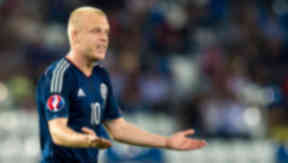 Do you love your job enough to do it for free? Steven Naismith might do.
The Scotland international has been linked with a move back to Rangers and reports suggest he is willing to play for them without picking up a wage until the end of the season.
Meanwhile, Hearts have lost out to their Edinburgh rivals as Australian striker Jamie Maclaren joins Hibs on loan until the end of the season.
Southampton have been linked with Stuart Armstrong again but after the £3m tag in the summer his value has apparently more than trebled.
James McFadden has said he would be keen to play abroad after leaving Queen of the South, Stephen McGinn is set to sign a new St Mirren deal and could former Hibs striker Jason Cummings be joining Rangers?
It's all in today's Football Talk. Welcome to Monday as we go again.
Today's top stories
ICYMI
Beyond Scotland
Today's back pages
The best of social media