Csaba Laszlo: Not even Celtic would beat Dundee Utd 6-1
The Tannadice club were thrashed by Falkirk in the weekend's Championship meeting.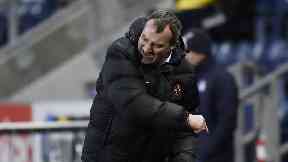 Csaba Laszlo believes Falkirk pulled off a result even Celtic would not be able to record if they were to come up against Dundee United this season.
The Championship title chasers were humiliated 6-1 at the Falkirk Stadium on Saturday to leave them trailing league leaders St Mirren by six points.
It was a scoreline the manager admitted was the worst of his career, across both his management and playing days.
Still visibly angry at the performance of his players, Laszlo vented to the media ahead of their visit to third place Dunfermline this weekend.
"You lose games... but you do not lose games 6-1," he said. "There has to be pride there.
"If I go tomorrow, let's say, I know we have to face the best team in Scotland. If I go tomorrow to Celtic Park, even with the same players I would not lose 6-1. 100% not.
"But the next question will be but why lose to Falkirk? And this is the right question. Why after going 1-0 ahead?
"Usually if you see we go 1-0 in front I win most of my games 1-0 or 2-1. This is a new experience.
"If I knew it was going in this direction I would have maybe taken all my players back after 50 minutes to the 18-yard box and defended.
"But this is also not Dundee United, this in not what I want. I do not want to be defending a 1-0 lead against Falkirk.
"Sorry Falkirk, congratulations you played fantastic football that afternoon. But on the other side I don't think our fans want to see us score a goal after 70 minutes and then kick the ball in every direction just to save the result... but sometimes you have to."
'We are Dundee United. I don't allow anybody to joke with Dundee United.'

Csaba Laszlo, manager
Laszlo wants to put the personal trauma behind him and hopes the experience will encourage the players not to suffer such a devastating result again.
"That was the hardest punch in my career since I was a manager," he continued. "Even as a player I never lost like this.
"You feel from outside that you are useless. You try and try but you see it doesn't work.
"Every new experience is one you have to learn from. You have to show that you will not go down.
"I am a fighter and I want to show to the players we have to stand up. They made this mistake but that they are in charge and can still challenge this."
When asked if Dundee United were still realistic title challengers, however, Laszlo repsonded: "Definitely, why not?
"There's 16 games to go. We have played one game less and have St Mirren in our home game so what is the problem?
"We are Dundee United. I don't allow anybody to joke with Dundee United."