Transfer Talk: Halliday's hell, Pena reflects on Rangers
Your daily round-up of what's happening across Scotland and beyond.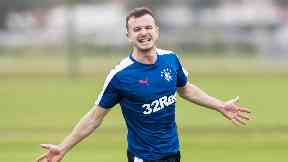 We've all had a bad holiday. Disappointing weather, poor food, unfriendly locals... but unlike Andy Halliday we've been able to go home after a week or so.
When the Rangers midfielder moved to Azerbaijan in the summer he was hoping for an educational spell playing abroad.
It turns out homesickness and the language barrier proved too much though and he wanted to come back to Scotland after just one week.
Meanwhile, Carlos Pena is also doing some reflecting and he says "nothing went wrong" during his time at Rangers.
It's the end of an era for Derek Lyle after he was told he's free to leave Queen of the South and Hibs' new boys made their debut in a goalless friendly on Tuesday.
Over in Dubai, Celtic boss Brendan Rodgers is worried the transfer speculation that's surrounded Moussa Dembele for three windows now is having a negative impact on him.
Today's top stories
ICYMI
Beyond Scotland