Neil McCann: I'll take share of blame for dismal defeat
The Dark Blues were thrashed 4-1 at home by Premiership bottom club Ross County.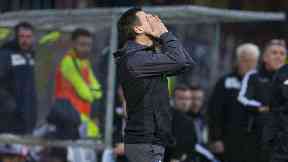 Dundee boss Neil McCann accepted his mistakes were partly to blame for his team's comprehensive 4-1 defeat at home to bottom club Ross County.
The Staggies started the afternoon six points adrift at the bottom of the Premiership table but ended a 13-match winless run to close the gap to those around them.
Owen Coyle's men struck four times in the second half as Davis Kellor-Dunn and Tim Chow scored either side of Alex Shalk's double.
Dark Blues boss McCann shouldered responsibility for the convincing loss.
He said: "I'm not just going to throw the boys under the bus.
"I made mistakes today as well and I will take responsibility for some of the mistakes that I made.
"Together we will certainly have to look at that and see ourselves how bad that was, because that's not good enough.
"I can only apologise to the fans because that doesn't sit well with me and I know it doesn't sit well with them and I'm pretty sure it doesn't sit well with the players."
He added: "I think the second goal was indicative of our play today in terms of taking negative passes, not looking purposeful when we had and not being positive enough when we had it.
"We put ourselves under pressure and lost a sloppy goal and it had a bit of an effect on us."
The win was County's first since a 3-2 home victory against Motherwell on November 4th.
Staggies boss Coyle believes securing the long-awaiting win can instil newfound belief in his squad.
He said: "It had to come and had to come and had to come quickly.
"In all my years as a player, coach and manager, the longer it goes the more difficult it gets and some of the results have been harsh on us, but with the experience, you are able to put across that consistent message.
"What was really good today was that, having got the goal and then conceding, it was the character they showed from that because that was the point where you see it.
"When you're on those runs it's easy to say, 'here we go again' but the quality we showed and the finishes were outstanding."