Football Talk: Armstrong boost, Osman's fashion range
Your daily round-up of what's happening across Scotland and beyond.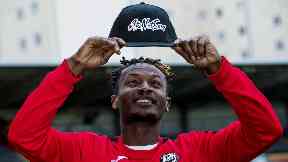 It's one thing defeating an injury, but few players do it in the style of Abdul Osman.
The Partick Thistle captain not only got over his shoulder problem earlier this season, he found the perfect way to pass the spare time as well.
Fashionista Osman launched his own range of gear and struck it lucky when he was visiting former team mate Mathias Pogba.
His brother Paul took a shining to the range and started posting photos of it on Instagram... and the rest is history they say.
Elsewhere, Stuart Armstrong could hand Celtic a timely boost ahead of their Europa League fixture after making good progress from his injury.
And Anthony Stokes is reportedly a wanted man after attracting interest from Bolton Wanderers and Panathinaikos.
Today's top stories
ICYMI
The best of social media