Murty to question Windass over 'shush' gesture
The Rangers boss was impressed by an 'outstanding' goal but puzzled by the celebration.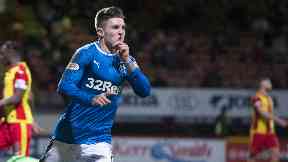 Rangers manager Graeme Murty described Josh Windass' goal in the 2-0 win at Partick Thistle as "outstanding" but admitted he had no idea why the player appeared to "shush" the away support as he celebrated.
Windass scored from a Daniel Candeias pass to put Rangers ahead in the 34th minute at Firhill before a James Tavernier goal in the second half sealed three points for the visitors.
The 24-year-old raised his finger to his lips in front of the Rangers fans as he celebrated the opener, leaving his manager baffled.
"I didn't see it," Murty said. "I will talk to him about it.
"I don't know why he has done it, if he has done. But to be perfectly honest I don't know why Josh does many things that he does.
"I will have a chat with him and see what he meant by it and we will get to the bottom of it eventually."
"But let's talk about the goal - the goal was outstanding. He has the execution of the highest order and then in the next breath he will do something that will make you scratch your head.
"That is the bit he has to get right, that is the bit that will take him to the next level because his top level is great."
Murty was pleased with some of his side's performance as they bounced back from defeat at the weekend but still saw room for improvement.
"It wasn't as fluid, inspiring or imposing as I would have liked, but we got the result we wanted," he said.
"I saw some nice bits and some outstanding play, particularly both the goals, and it is pleasing to get a clean sheet and come away with three points."