Football Talk: Hughes for Scotland, Hammers eye Roberts
Your daily round-up of what's happening across Scotland and beyond.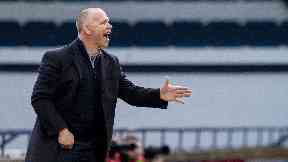 Walter Smith could have been posing for photographs on the Hampden pitch by now but instead he's decided that he's no longer interested in the Scotland job.
For the Scottish FA hierarchy, it's back to a very familiar looking square one.

But there is a new hat in the ring and an added incentive along with it. John Hughes has said he would like to be interviewed and that awkward question about salary won't even have to be asked. He'll happily do the job for nothing.
Elsewhere, Patrick Roberts may have been at Celtic so long that some forget he's a Manchester City player but other Premier League clubs have taken notice of his situation and are ready to make a move this summer. West Ham and Leicester are keen on the winger.
The SFA might be in crisis mode but neighbours at the SPFL are in negotiations of a different kind, looking to land a new TV deal.
And as we gear up for Scottish Cup weekend, Gary Mackay-Steven says Aberdeen can handle the pressure of being heavy favourites to deliver a knockout blow to Dundee United.
Top stories
ICYMI
The best pages