Murty: Windass has apologised but he needs to learn
The Rangers manager has discussed the attacker's 'shushing' gesture with him.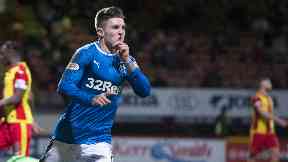 Rangers manager Graeme Murty has revealed that Josh Windass has apologised for gesturing to his own fans after scoring against Partick Thistle but says the player has to take lessons on board.
Windass capped off a flowing Rangers move with a goal to put his side ahead at Firhill on Tuesday and celebrated by raising his finger to his lips in a "shushing" gesture in front of his own support.
Murty made it clear that he wasn't impressed by the player's action but said that the club had to help him develop, though the 24-year-old had to take responsibility for his behaviour.
"I've spoken to him," Murty said. "Josh is aware of his responsibilities both as a professional athlete and as a player for Rangers.
"He has a responsibility to conduct himself in a certain manner and comport himself in a certain way.
"He's understanding of that fact. Josh is a very off-the-cuff kind of guy, he plays in the moment and I think you saw an outpouring of frustration with his own game at times and it's something that he needs to understand, and he does understand, that he needs to channel that frustration in a more positive way.
"If he had, we would be sitting here talking about a fantastic goal, 11 seconds of quality, high-tempo football with elements in it that were really pleasing. Instead, we're having to talk about a reaction that could have been completely and wholly different."
"Once Josh recognises that fact then I'm sure his development as a person as well as a footballer will have moved forward.
"He did [apologise]. Once again, this is not something that he's thought deeply about, there's no underlying meaning. It's just off the cuff and in the moment. It's gone from his psyche but obviously in the future he needs to channel what he's feeling but in a positive way for himself, for the club and for the fans."
Asked if Windass might have to be prepared for backlash from fans when Rangers face Ayr United in the Scottish Cup this weekend, Murty was clear the player had to accept it if it came and use it as a learning experience. He said that the coaching staff would help him to mature and that could lead to him flourishing.
"Regardless of if it's unfair or not he's getting criticised and he has to deal with it," he said. "It's a reaction to his action and he has to take ownership of it.
"He has to own what he did and acknowledge what he did, learn from it and move on. I'm confident that the young man that he is can do that.
"We will help him in that regard but he has to understand that his energies would be better served in his football and celebrating the fact that he played a part in a wonderful goal.
"Josh has got broad shoulders. Development is painful. Learning is painful at times. Sometimes you have to make a mistake and suffer the consequences to grow as a person.
"If he does that and he grows then from the current player that he is he could grow into some athlete and some player. We have to support him in that."
Download: The STV News app is Scotland's favourite and is available for iPhone from the App store and for Android from Google Play. Download it today and continue to enjoy STV News wherever you are.