Football Talk: Barnsley want Ross, new Tavernier deal
Your daily round-up of what's happening across Scotland and beyond.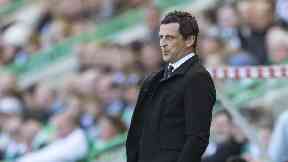 From the Scottish Championship to the English Championship... could Jack Ross be on the move?
The St Mirren boss is reportedly wanted down south as Barnsley search for a new man in charge.
Meanwhile, James Tavernier could be on the brink of signing a new Rangers deal. The word is he's being offered a two-year extension to his existing contract.
There are boosts for other sides as well - Zenit defender Branislav Ivanovic doesn't look set to recover from injury in time for the Europa League clash with Celtic and Hearts duo Steven Naismith and Don Cowie are set to make their comebacks.
Chris Sutton has opened up about his gambling addiction, but the article is worth it for the old photo of him during his Norwich City days alone.
And Star Wars fans have a new day to celebrate. Not only is there May 4th, there's now every time Chelsea host West Brom. All will be explained in our social media section below...
Today's top stories
ICYMI
The best of social media
Today's back pages