Neil McCann: I didn't punch or slap Zander Clark 
The Dundee manager says he was "just a bit fired up" in a full-time confrontation.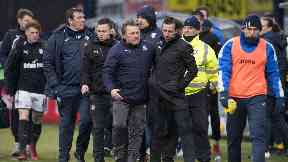 Dundee manager Neil McCann has denied striking St Johnstone goalkeeper Zander Clark during an argument after the Perth side's 4-0 win at Dens Park.
McCann was involved in a confrontation with St Johnstone's kit man at full time before Clark became involved in the struggle in the technical area. The Dundee boss appeared to raise his hand to the Saints' substitute keeper but later denied striking him, saying that he had been grabbed as tempers flared.
"The spat at the end, I'm just a bit fired up," he said. "I thought I was controlled during the match but I've gone over and words were exchanged and one of their players has put their hand on me and wouldn't let go.
"I asked him to let go and he wouldn't. It took me a wee bit of time to calm down and walk away.
"But when somebody puts their hands on you and you ask them to remove them and they don't, it is hard to just back off.
"I put my hands up to grab Zander to say get his hands off me. Then I retracted them because I had started to regain my composure.
"There was no punch, no slap or anything like that though."
'There was no punch, no slap or anything like that though.'

Neil McCann
McCann said he wished his players had shown the same commitment after watching them ship four goals that saw them slide into 10th place in the Premiership table.
"Maybe if my players showed that type of fight we wouldn't have got that performance," he said. "I'm embarrassed by the performance and by the result. It doesn't sit well with me and I've told them that."
Saints boss Tommy Wright admitted there were some heated exchanges at the end of satisfying afternoon for his team and said that video footage would show who was in the wrong.
"It's difficult when you lose a derby game but the TV pictures will tell the truth of what happened,"he said. "There was certainly no blame attached to us. At times, these things happen but I'll let the TV pictures tell the story.
"They were waiting for us at the end. It's like a throwback to when I played in a pub team. But we kept our heads and behaved impeccably.
"Did it spill over into the tunnel? It did a bit, aye. But I'm here, aren't I? There are no marks on me.
"There was a lot of shouting and a lot of threats. But I'm a big boy, I can look after myself."