Football Talk: Rangers' Bates stance, Doncaster hits back
Your daily round-up of what's happening across Scottish football and beyond.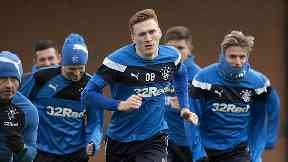 Rangers defender David Bates agreed to a shock move to Germany on Thursday and the enquiry into why the youngster decided to up sticks is already underway.
Bates will join relegation-threatened Bundesliga outfit Hamburg SV in the summer on a four-year-deal.
According to reports, the 21-year-old decided to head for the continent after Rangers refused to bow to his wages demands of £7500 a week.
The Ibrox club will now receive a five-figure compensation sum under FIFA guidelines having apparently point-blank refused to offer Bates a salary which outstrips the pay-packet received by other young Light Blues players.
Elsewhere, SPFL chief Neil Doncaster has responded to criticism of the league's end-of-season fixture list, insisting that the schedule is the best they could have delivered and that the split is here to stay.
Top Stories
ICYMI
Back Pages